The only brand rated 5 stars for quietness.
Mitsubishi Electric Heat Pumps
A heat pump is an investment in your comfort for years to come so it makes sense to invest in the best. Mitsubishi Electric Heat Pumps have been engineered with heating in mind, not cooling like most others. This means that they are designed to heat your home more effectively and quietly but can also be used for air conditioning during the summer months.
All Mitsubishi Electric Heat Pumps are designed to operate quietly and efficiently. We can recommend a Mitsubishi Electric that best suits your home from their range below:
Classic GE Series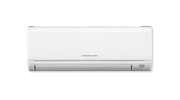 High Wall Mounted
Starting from barely a whisper, the Classic GE Series includes New Zealand's quietest indoor heat pumps ever! The classic, neutral design will suit any home and they are super efficient with all GE models earning the Energy Star® mark.
Designer Series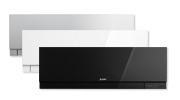 High Wall Mounted
Created to suit even those with the most discerning style. With elegant, clean lines the Designer Series is available in a glossy black, matte silver or classic white – complementing your home's decor and existing appliances.
Classic KA Series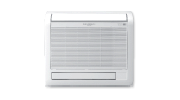 Floor Mounted
Designed to sit discreetly at floor level, our floor consoles are ideal for replacement of traditional floor mounted heat sources such as night-store heaters or fireplaces.
HyperCore Series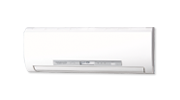 High Wall Mounted & Floor Mounted
Designed specifically for New Zealand's winter conditions, HyperCore® Heat Pumps provide New Zealand's best heating performance, guaranteed. Advanced filtration features allow you to enjoy deodorised, purified air, perfect for asthma sufferers.
Cassette SLZ Series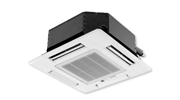 Ceiling Mounted
Compact and ultra quiet, our range of ceiling cassettes are equipped with four way airflow and cutting edge control. They offer you the flexibility to keep your wall and floor space free without compromising on comfort.
Concealed Systems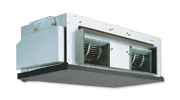 Whole Home Heating
Concealed heat pumps ensure versatility and ease of installation. Specifically designed for easy installation in ceiling spaces, concealed heat pumps are ideal for large residences or offices. Available for installation in either a bulkhead ceiling space, or as a ducted system, these are the ultimate solution for unobtrusive heating as they are largely hidden from view with only air grilles visible.
Multi Room Systems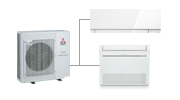 Whole Home Heating
Connect multiple indoor units to a single outdoor unit. This system gives you the freedom to select the indoor model best suited to each and every room in your home. Multi room systems are designed to allow multiple indoor units of varying capacity and type to be connected to just one outdoor unit, enhancing exterior aesthetics by reducing the number of outdoor units required.
Click here to learn more about the Mitsubishi Electric Heat Pump range.